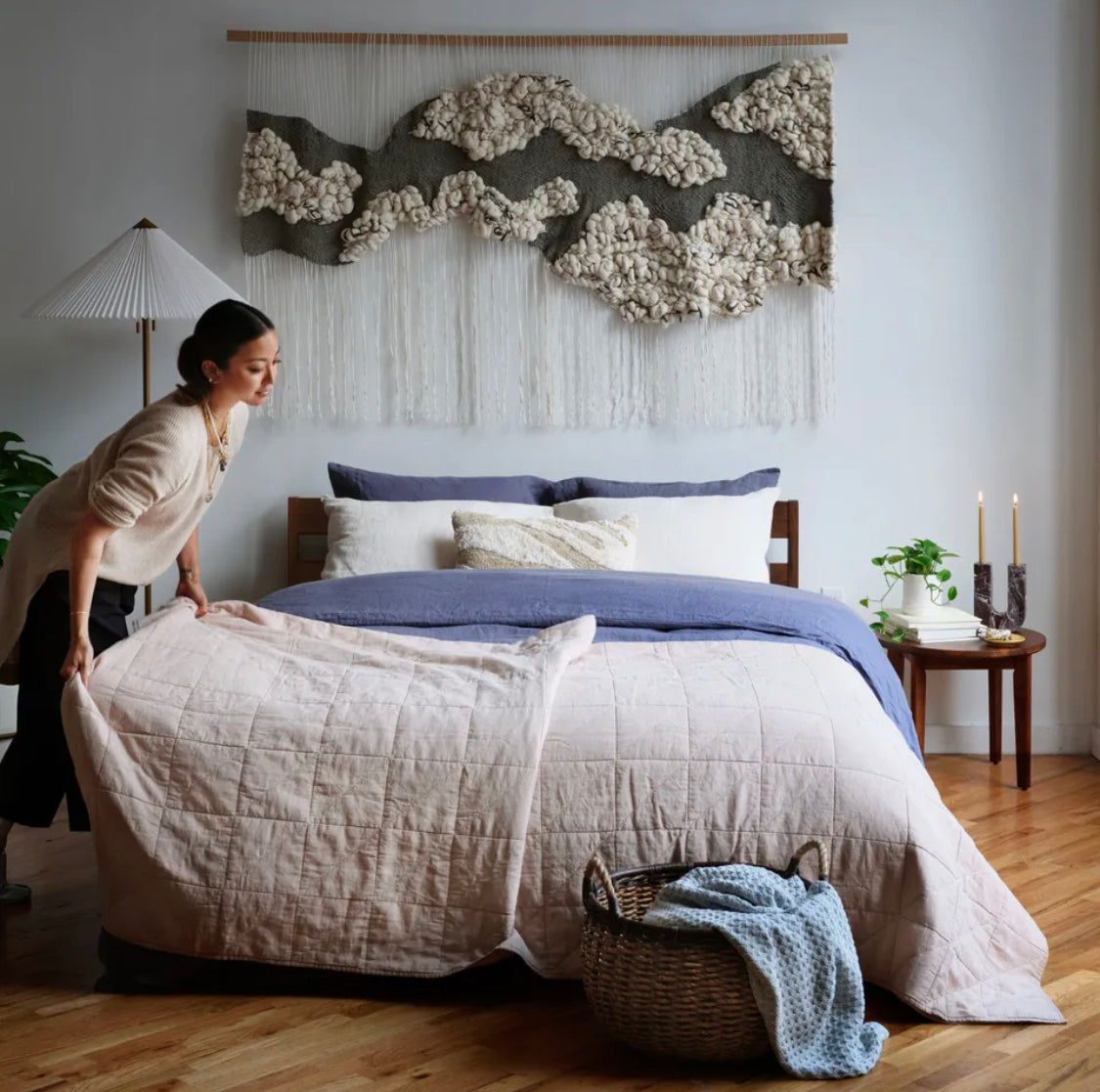 Discover the beauty and joy of a custom, handwoven piece tailored to your personal vision
Whether it's a reflection of your favorite landscape, a representation of a cherished story, or an embodiment of a specific emotion, each piece is carefully crafted to resonate with you. Experience the journey of your custom piece unfolding, from initial sketch to the completed weave.
Order a Custom Piece
How to Commission a Piece?
The majority of my work are commissioned projects. I find so much fulfilment and joy working with designers and private collectors alike to create something meaningful and one-of-a-kind. Below is my process for ordering a commissione piece.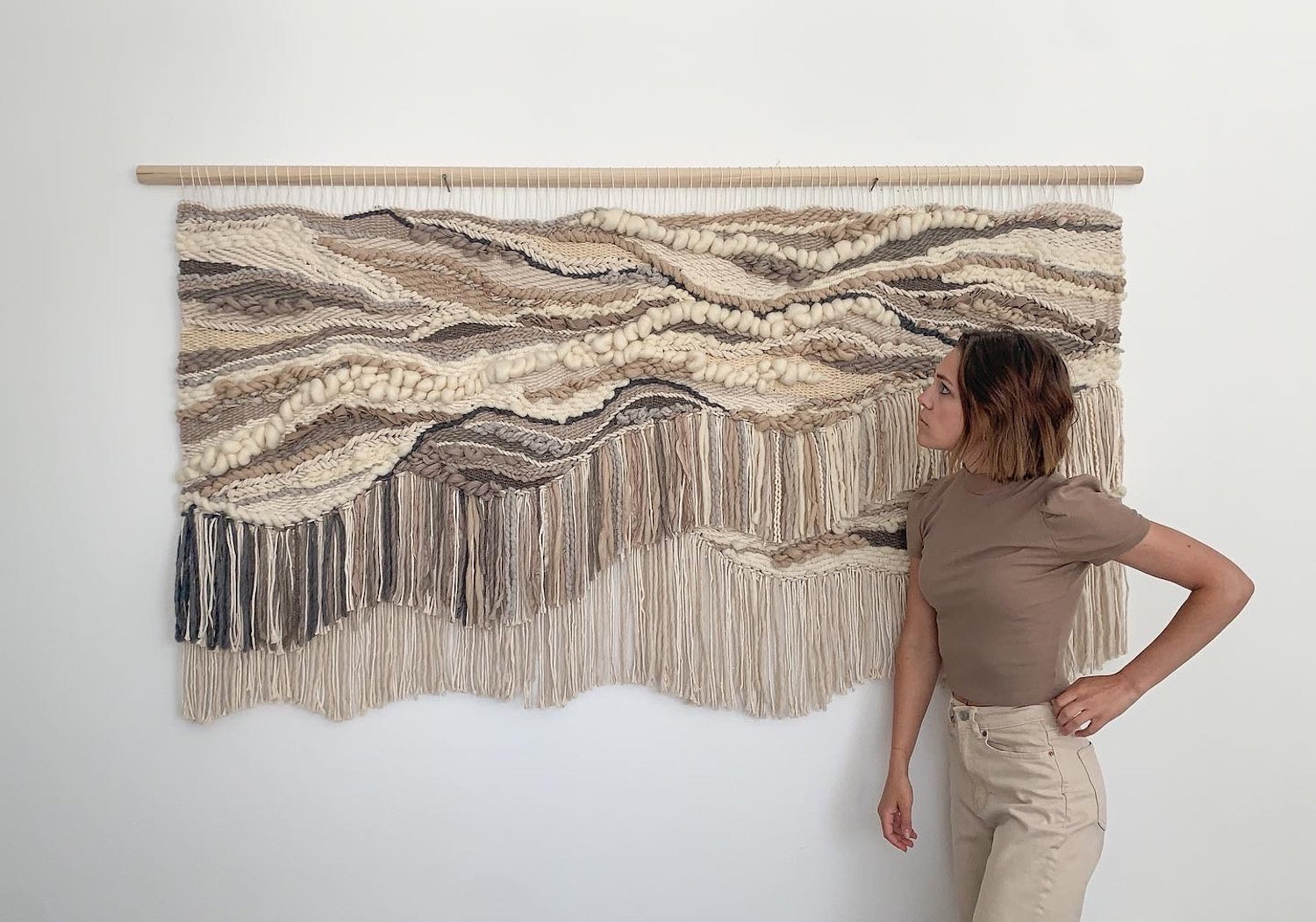 Share your Vision
Look through my portfolio and identify elements you like.
Once you're ready share your vision, dimensions, and any unique aspects you wish your piece to reflect, via the form below.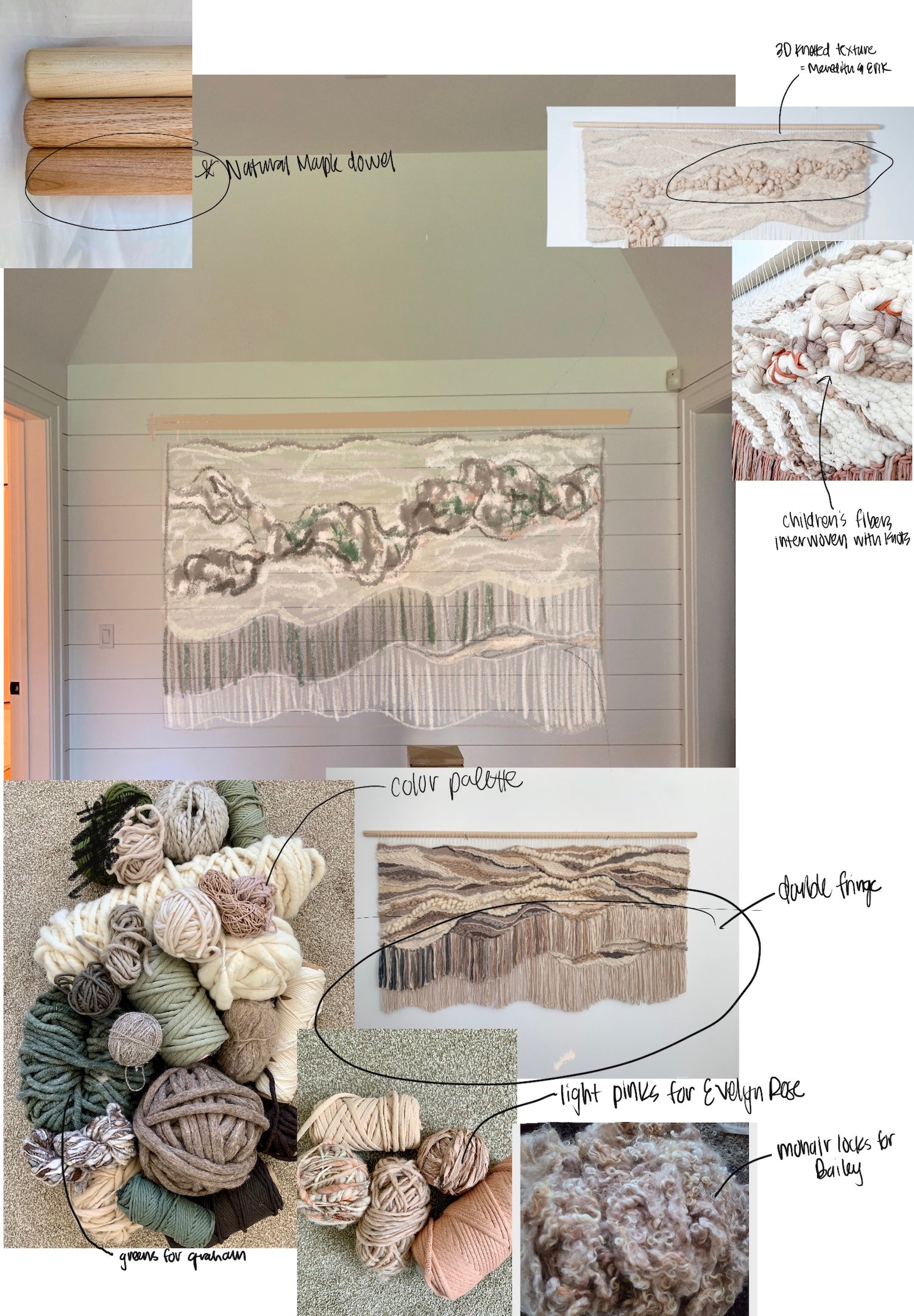 Design Process
I'll get back to you via email and we'll discuss your ideas. I'll provide a quote based on your desired size and style.
A 50% deposit will secure your commission. I will then prepare sketches incorporating your preferred elements and inspirations.
Materials and Weaving
Upon sketch approval, I'll gather and send pictures of the materials for your approval. With your go-ahead, the weaving process starts. You'll receive progress photos to keep you engaged and to allow any necessary adjustments.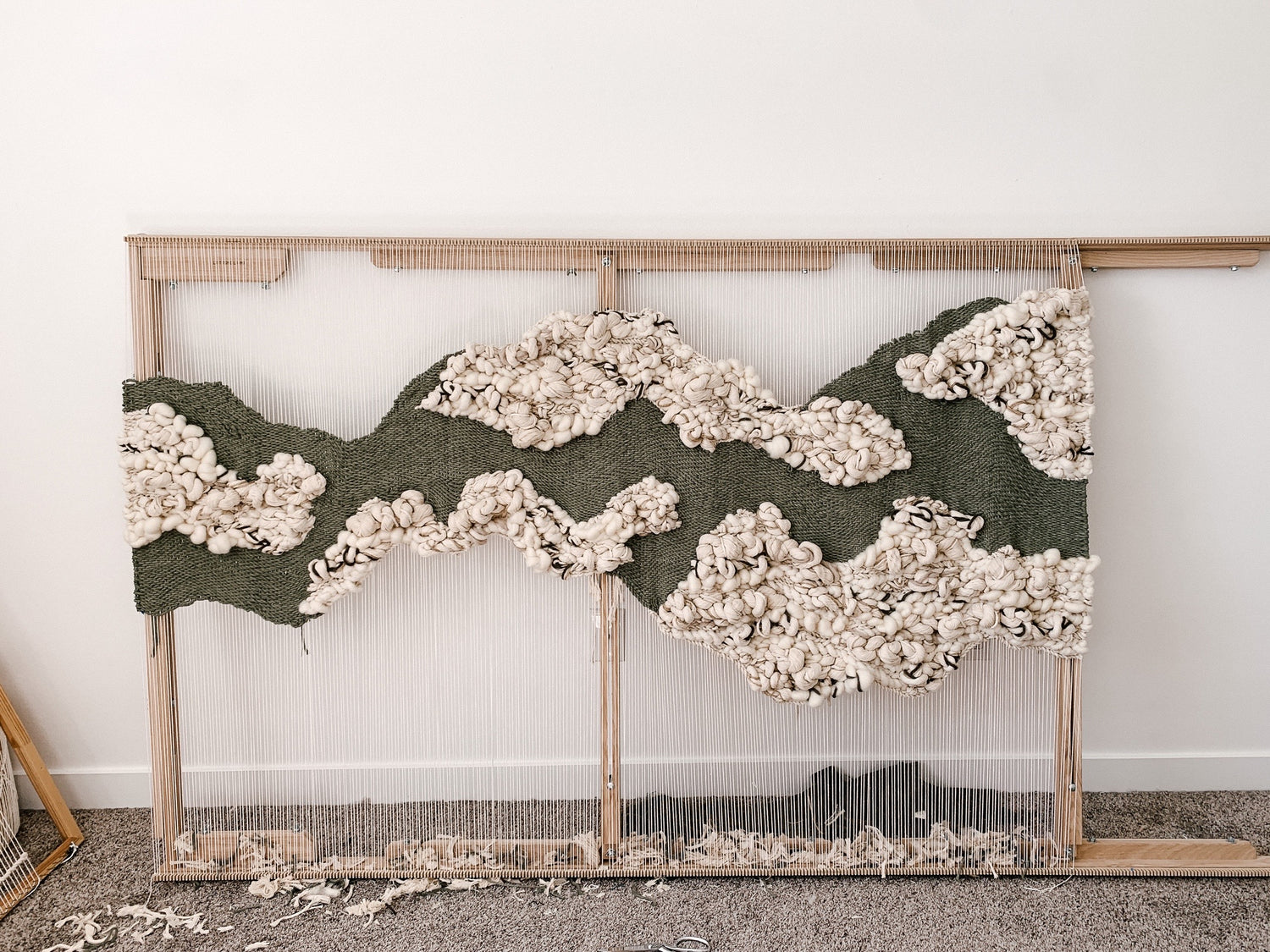 Final Approval
After the piece is completed, I'll send you photos for final approval. The remaining payment, along with calculated shipping costs, will be due at this stage.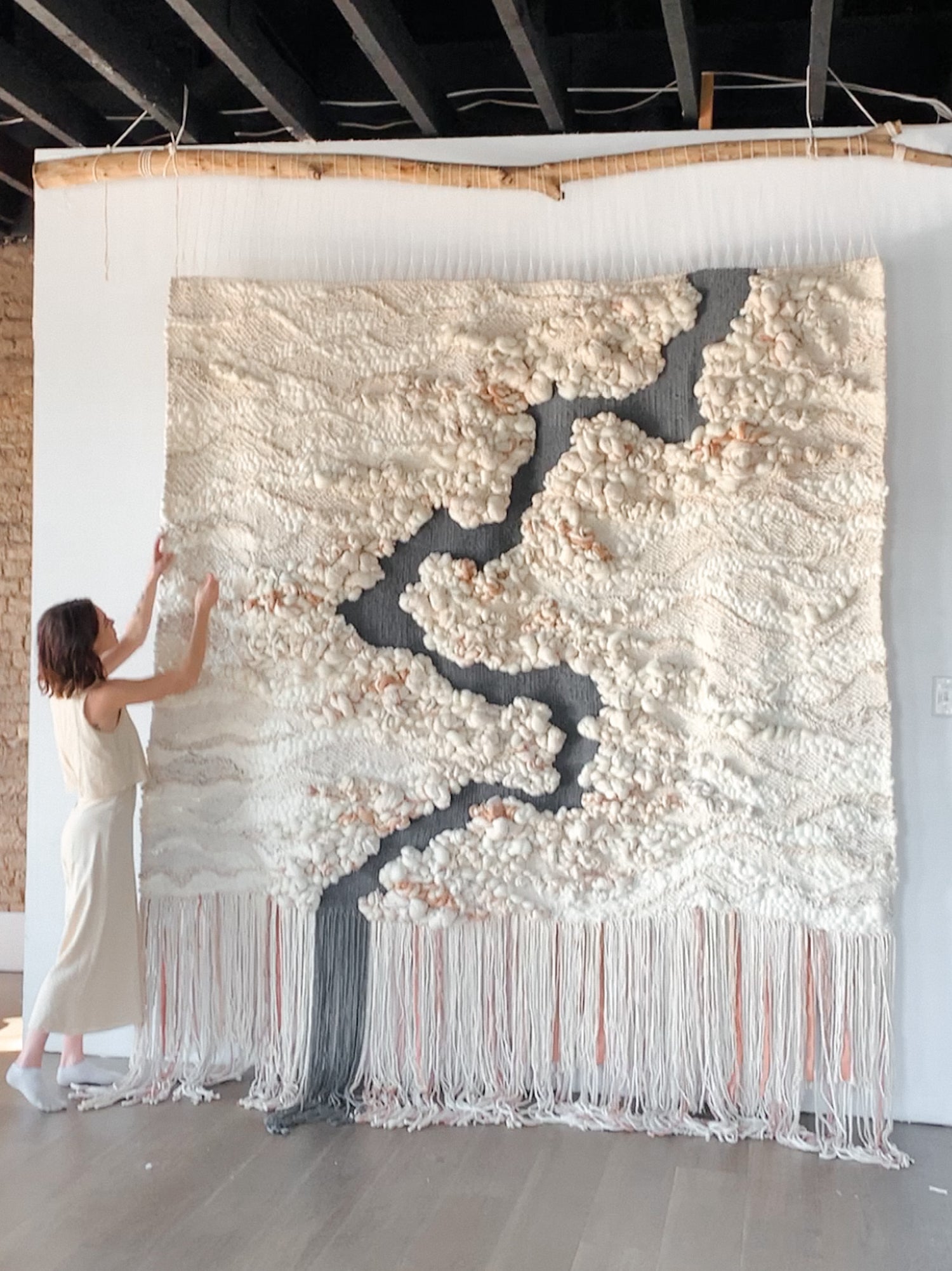 Delivery and Installation Assistance
Your piece, including installation hardware and a certificate of authenticity, will be shipped to you. For larger pieces, optional installation assistance is available for an additional cost.
Past Clients
~Mary.

"This stunning one-of-a-kind handwoven wall art fiber sculpture arrived carefully packaged! It is by far the most unique piece of art I've ever had in our home and feel privileged to be able to share it with family and friends! Rebecca worked with me to create this masterpiece to go with a guest bedroom's color & decor. She came through with the perfect design and used lovely muted soft colors along with her amazing textured yarns and fibers! It is hard to find pristine quality and workmanship like this! And the turn around time was quick. Rebecca is also a joy to work with and wanted to make sure I was happy with her work throughout the process! Can't thank you enough!"

~Katherine Q.

"I knew I wanted a woven piece above the stairwell in our VT home. I saw some of Rebecca's other works where she had a river woven in so it was natural to ask if she would do the Mad River. I sent several photos of the river for inspiration and she nailed it!  I also loved being able to participate in selecting the yarns both for color and texture. I was overwhelmed emotionally by her piece because she did such a great job incorporating the feel of the Mad River. The piece is hung prominently in our home for everyone to enjoy and our friends and guests always comment on the piece. It will be an heirloom to pass on."
Ready to Discuss?
Leave me a message with your vision and I'll get back to you within 2-3 business days.
FREQUENTLY ASKED QUESTIONS
How long does the commission process take?

Lead time depends on the size of the piece, materials I have on hand, and how demanding my work load is at the time and can fluctuate between 1-6 months. Please contact me about your project for an estimated lead time.
How much does a commission cost?

The cost of a commission varies widely based on its size and complexity. For a general idea, you can browse through my previous commissions. Please note, however, that commissioned pieces start at $3400. For an accurate quote, reach out with your specific vision and requirements.

The price includes the cost of materials, the time spent designing and weaving the piece, and a certificate of authenticity. Shipping costs and optional installation assistance are additional.
How is shipping cost calculated?

Shipping costs are calculated based on the size and weight of the finished piece, as well as the destination. This cost will be added to the final payment.
What is the optional installation assistance?

For larger pieces (usually over 10'), I offer optional assistance with installation. This service is not necessary but can be helpful. It involves me traveling to your location to assist with the process. The details and costs of this service are discussed on a case-by-case basis.