Regular price
Sale price
$0 USD
Unit price
per
Sale
Sold
Step into the tranquil oasis of The Elm Hotel's lobby, where this commissioned woven tapestry is a masterpiece and focal point inspired by the breathtaking beauty of the surrounding landscape of hotel. Handcrafted with love and care, this stunning piece invokes a sense of peace and rest, reflecting the calm waters of the expansive lake that graces the hotel's doorstep.
Measuring 11 feet wide and 5 feet tall and including a variety of over 20 different types of natural fibers, this stunningly tactile tapestry pulls the viewer in with it's soft textures and watercolor-like palette. 
Now hanging in The Elm Hotel, TX.
SHIPPING POLICY

Enjoy FREE shipping on ready-to-ship artwork.
CARE INSTRUCTIONS

Please handle with care. Rebecca's work is designed to be a decorative wall hanging only, not to be used as rugs or regularly handled. Avoid moisture except to gently steam the fringe if necessary shortly after installation. Use clean hands to comb through fringe or straighten strings at the top, careful to avoid snagging fibers. No maintenance cleaning is necessary besides gently dusting with a feather dusty as needed.
NOTES

While color representation is made as accurate as possible, please note that hues may vary from monitor to monitor. If you are commissioning a custom piece, samples of the materials can be sent free of charge for you to handle and compare in person. 
Share
View full details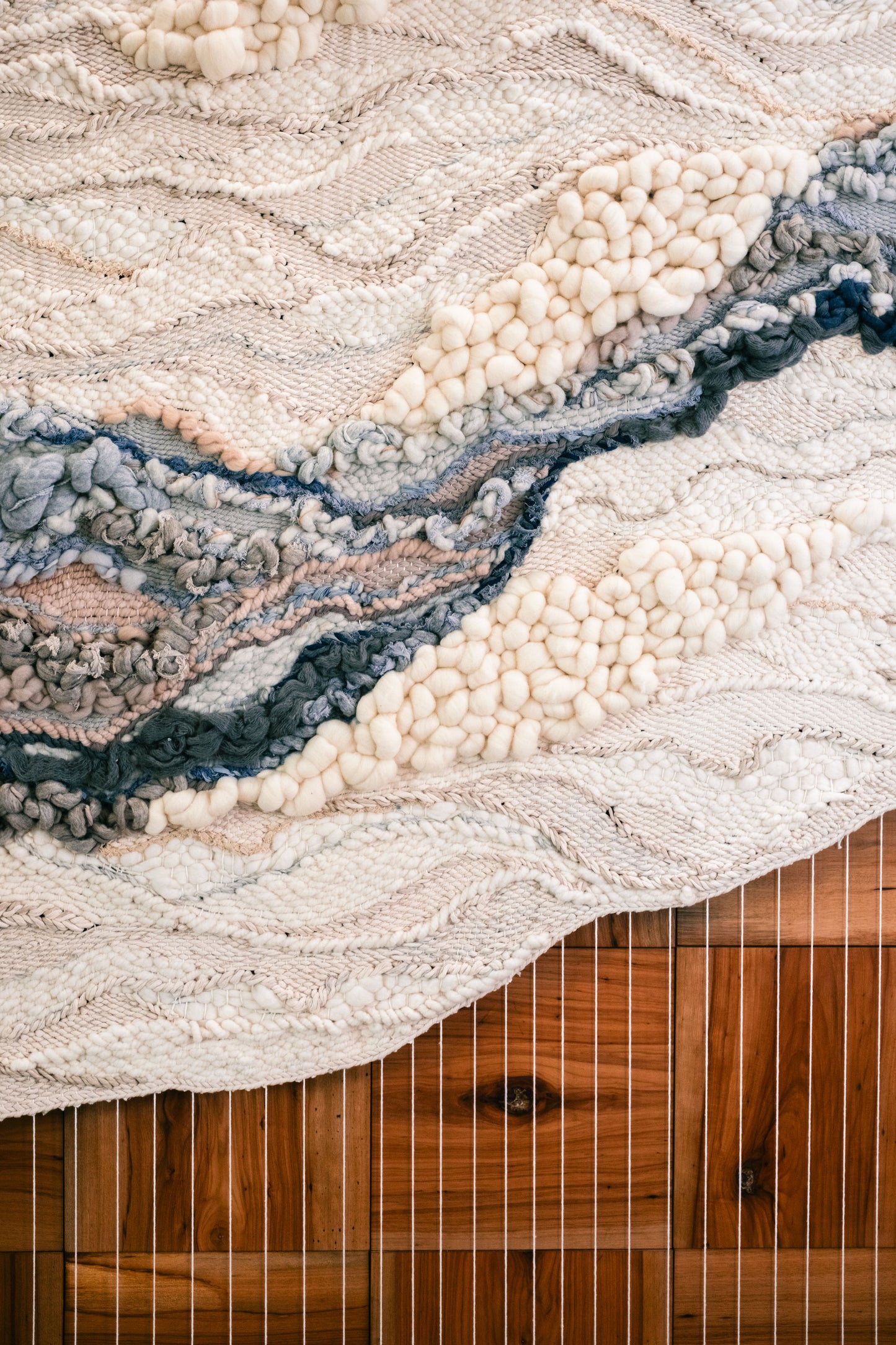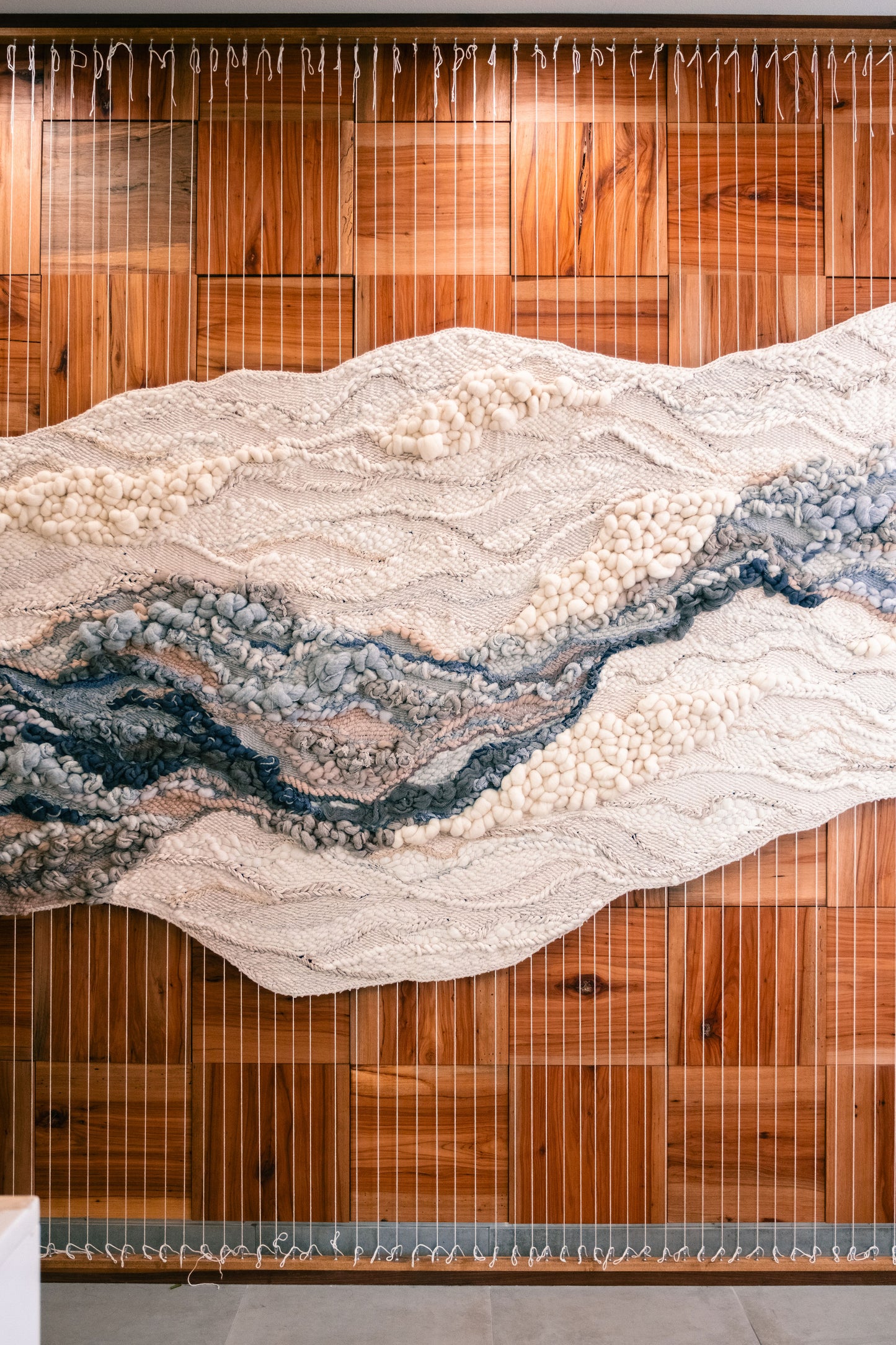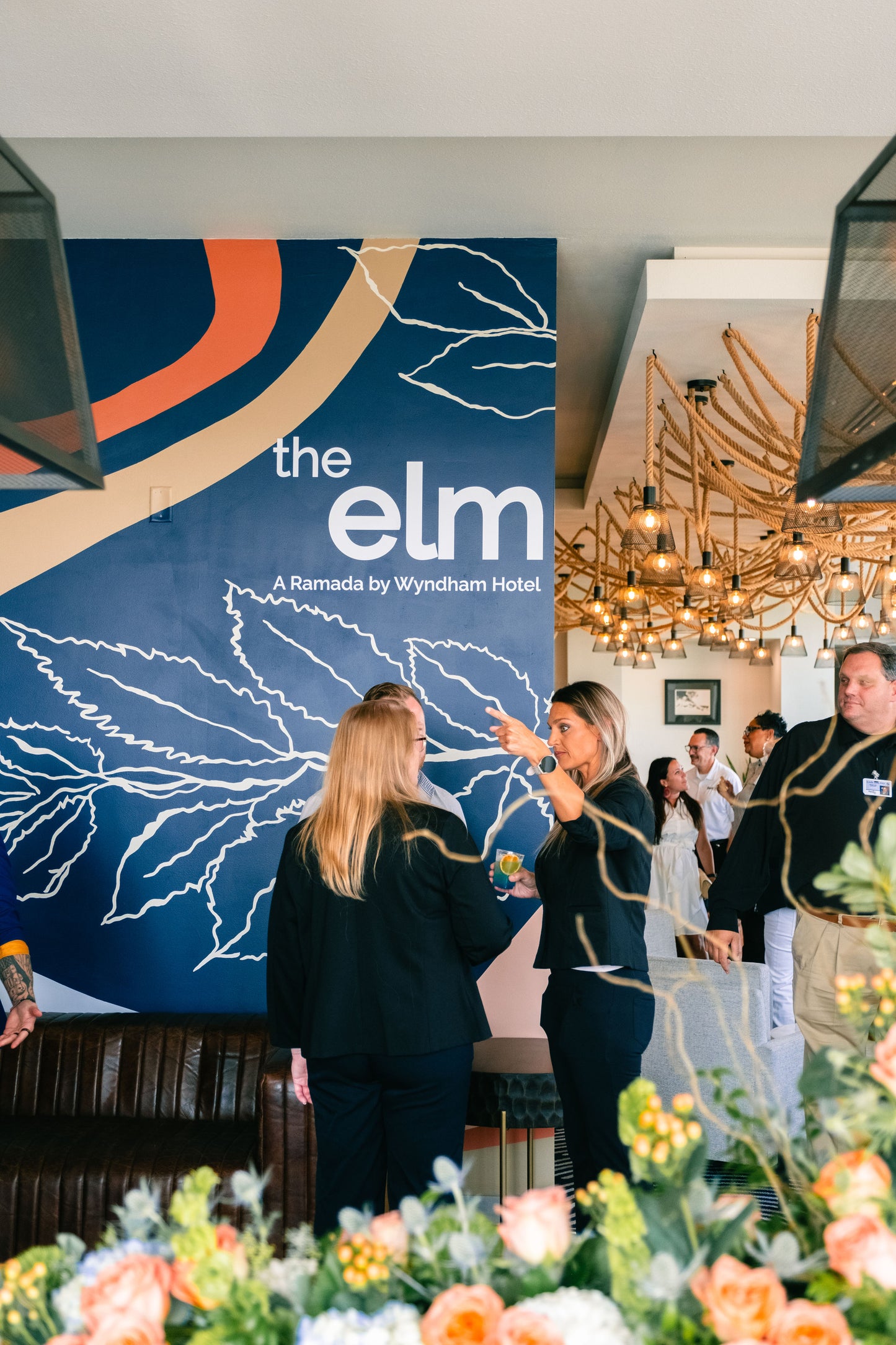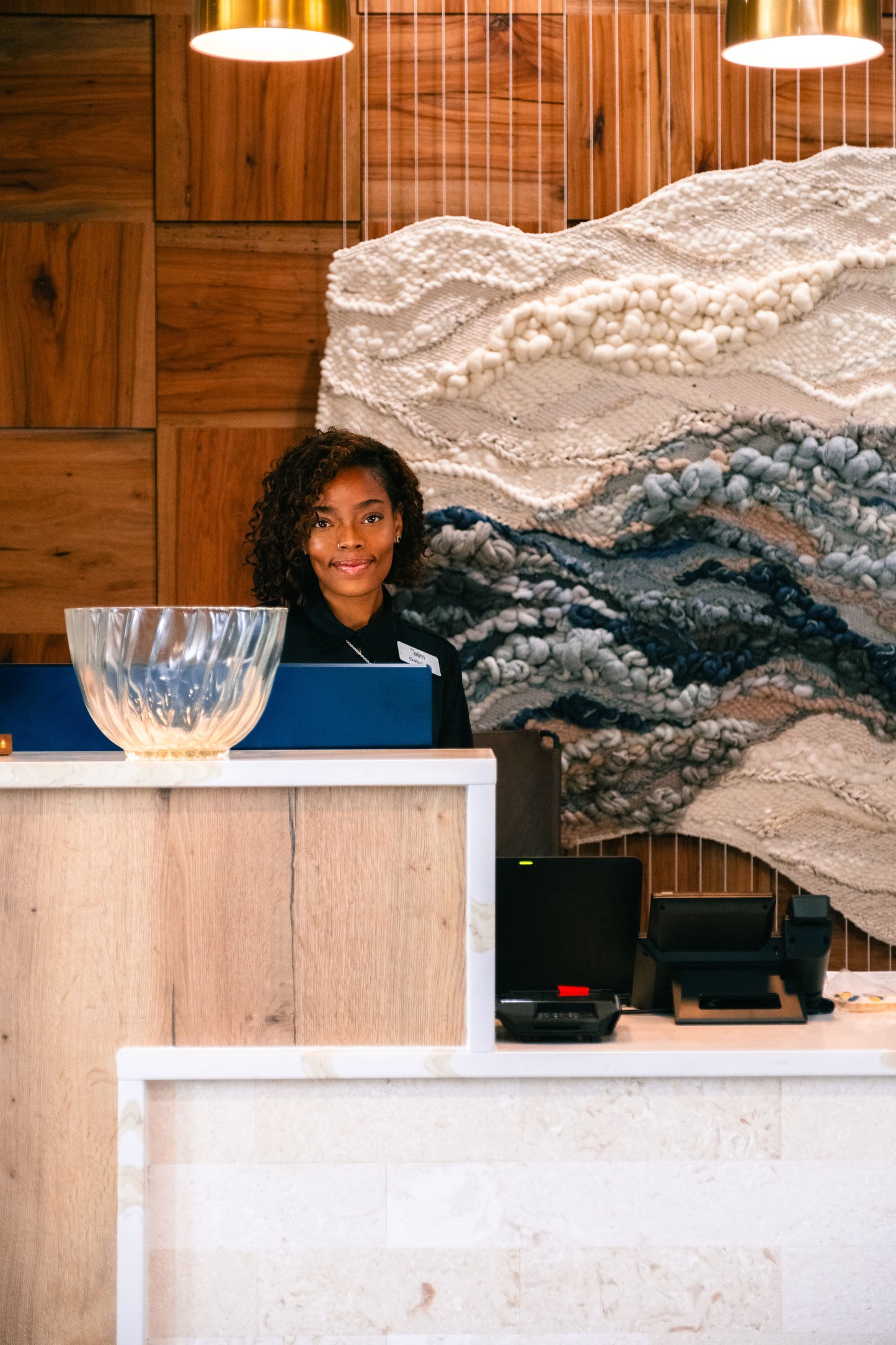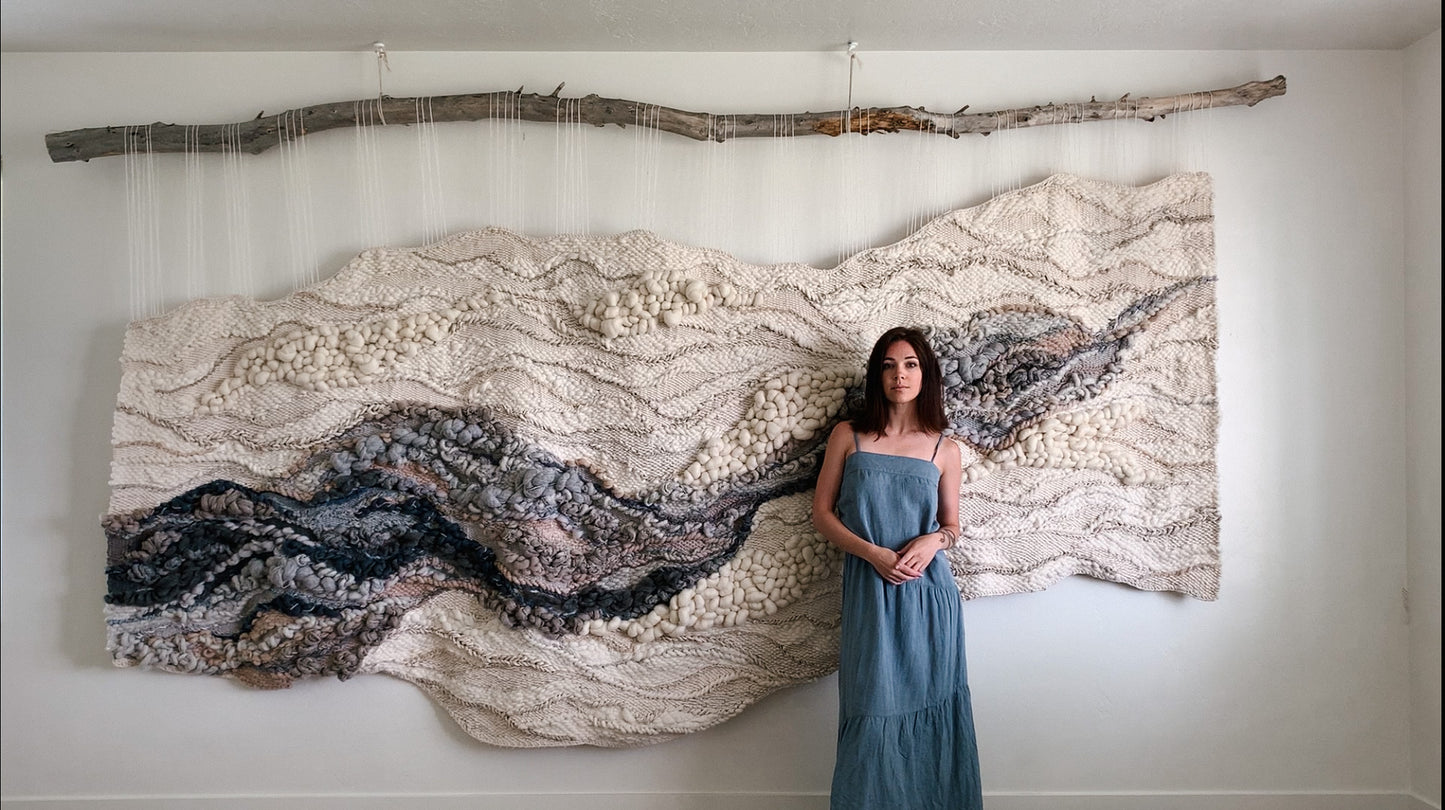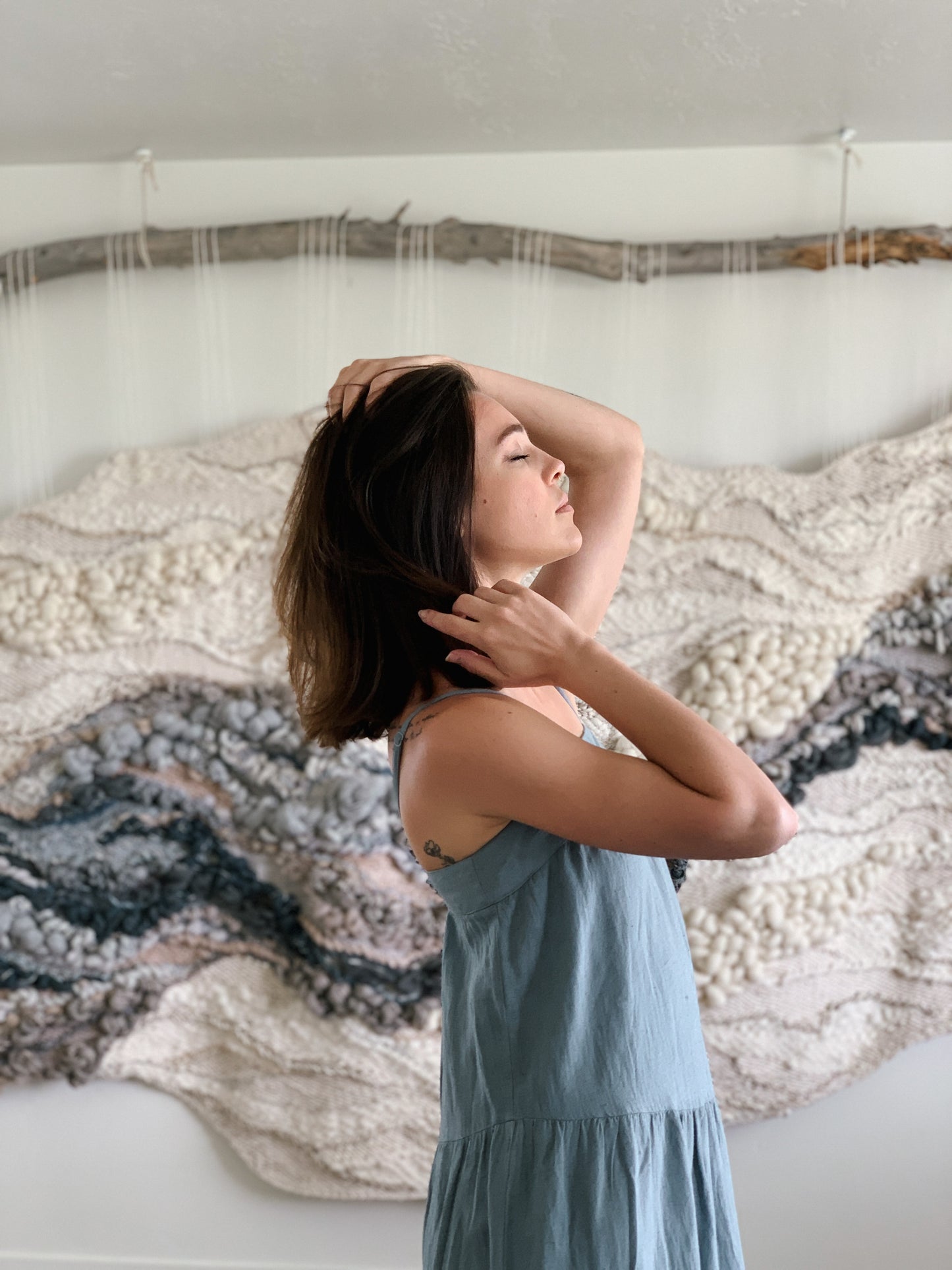 Breath In Breath Out
Breath In Breath Out

Teach me to loosen my grip on life
Teach me to open my hands and receive
Teach me to release
Teach me to breath

There was something about the way the water was always moving,
Something about the way the sand melted beneath my feet,
Something about the ever changing symphony of crashing waves
Coupled with the constant whisper of moving water
That seemed to impress upon my heart a message:

Receive.
Release.
Receive.
Release.

Stop desperately grasping for solid ground,
Insisting on gripping life with a tight fist of control,
Only to feel things you attach to slip through your fingers like sand.
Life is too big to be contained.

My breathing echoed the rhythm of the waves
In synch with the call that resonated within:

Breath in.
Breath out.
Welcome what comes.
Then let it go.

We all crave solid ground.
We yearn for the ability to fully understand,
To contain, to label, to predict, to be able to say "I know".
There is a fear that bubbles up at the thought of change,
The feeling of unstable ground, uncertainty, or admitting "I don't know".
And so, in resistance to that fear, we hold onto what we can,
Unknowingly limiting ourselves to the full majesty of life
So beautifully manifested in the wild ocean waves.

No amount of control, or familiar terrain
Can match the peace of surrender's realm.
There is a balance in the totality of life
With all its ebbs and flows
That we miss out on when we insist on control.
There is a magic and beauty in the surrendering,
Submitting, and softening that the universe was asking to show me more fully,
And I felt compelled to whisper
I'm ready.