an heirloom to pass on...
"...I knew I wanted a woven piece above the stairwell in our VT home. I saw some of Rebecca's other works where she had a river woven in so it was natural to ask if she would do the Mad River. I sent several photos of the river for inspiration and she nailed it!  I also loved being able to participate in selecting the yarns both for color and texture. I was overwhelmed emotionally by her piece because she did such a great job incorporating the feel of the Mad River. The piece is hung prominently in our home for everyone to enjoy and our friends and guests always comment on the piece. It will be an heirloom to pass on."
~Katherine  Q.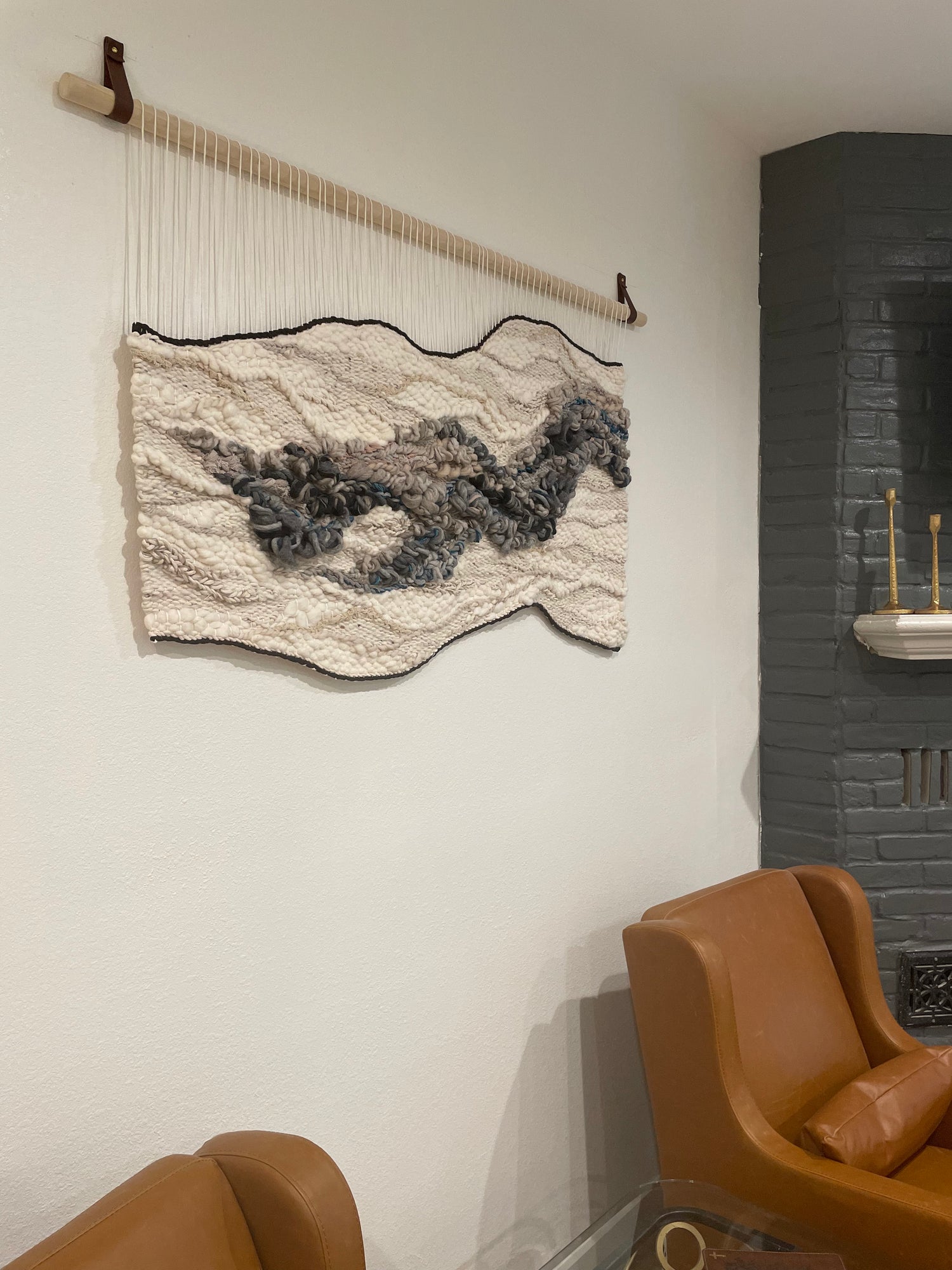 The Depth and detail is truly mesmerizing
"When I first came across Rebecca's art I immediately fell in love with her work. In particular, "The Return" was so beautiful and meaningful that I knew I would want to stare at it for years in my home. Not even thinking it was a possibility to shrink down such a detailed piece to less than 1/3 of the original size, I figured I would message her just in case. She responded promptly and told me of course that could be done! I was surprised and thrilled! Throughout the process she checked in with pictrues to make sure we were please with how the project was coming along. She also offered to customize any part of it. The depth and detail of Rebecca's art is truly mesmerizing, from the unique material used, the feeling behind each piece, to the quality of the hanging equipment included. It is truly one of a kind and I'm grateful to have it in my home!"
~EMILY M
A collaborative and interactive process...
"Once I hung the piece above the fireplace, I knew it was exactly what I had imagined.  The room felt peaceful, warmer and cozy just as I had hoped. I was really pleased with how collaborative and interactive Rebecca was as she created my piece.  She shared the colors and types of textiles she was planning to use and we tweaked it just a bit to make sure the accent colors fit my vision.  She sent updated pictures as she progressed to share the work in progress and ask for feedback.  This process ensured she met my expectations and I knew exactly what the finished work would look like when it arrived.  It was a truly great process and I am beyond pleased with the final product."
~TERESA
It is hard to find pristine quality and workmanship like this

"This stunning one-of-a-kind handwoven wall art fiber sculpture arrived carefully packaged! It is by far the most unique piece of art I've ever had in our home and feel privileged to be able to share it with family and friends! Rebecca worked with me to create this masterpiece to go with a guest bedroom's color & decor. She came through with the perfect design and used lovely muted soft colors along with her amazing textured yarns and fibers! It is hard to find pristine quality and workmanship like this! And the turn around time was quick. Rebecca is also a joy to work with and wanted to make sure I was happy with her work throughout the process! Can't thank you enough!"

~Mary

I was completely moved by this piece

"...it's grounding to say the least.  Being able to have a piece of your work in our home is an honor.. I am hoping one day to develop my art in a way that moves other as yours did me. Thank you so much for creating such an amazing piece! You were so great to work with and the piece is true gallery quality."

~Bryanna

Your artwork is perfection and quality and beauty is like no other!

"It's an understatement to say how much I love this magnificent handwoven fiber sculpture you designed for our guest room! Your artwork is perfection and quality and beauty is like no other! Thank you again as I will enjoy this with family and friends for many years to come!!"

~Mary

Absolutely beautiful

"Absolutely beautiful wall hanging. And so easy to work with Rebecca. I love it…"

~Joanne

Art can truly touch the soul

"I received my piece today. It is stunning. I love the name, so perfectly titled. Art can truly touch the soul."

~Erin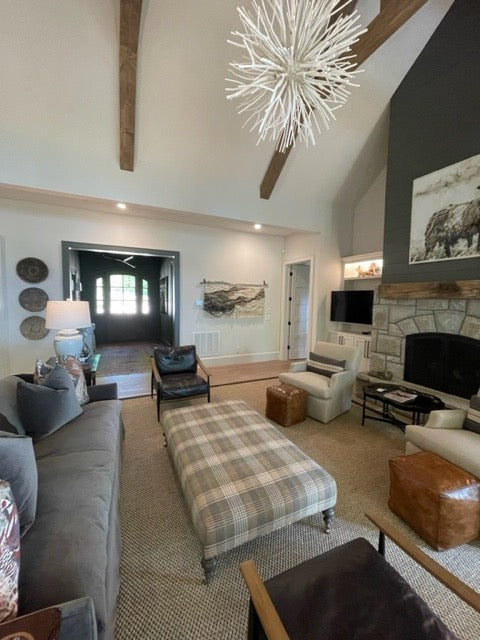 A pure joy, a true artist
"I was looking for the perfect piece of artwork, something with texture and something unique to complete our mountain home in Cashiers, NC. While browsing through Etsy I came across Rebecca's beautiful wall hangings and knew instantly that was the final touch our home needed! I loved her use of natural fibers and earth tones. I specifically requested to have large clusters of wool added to pay homage to the mountain, Big Sheepcliff,  where our home is located. She incorporated beautifully.  It was pure joy working with Rebecca! From our  first correspondence it was obvious she was a true artist, kind and wanted to capture my vision and she did!"
 ~Cheryl Huggins
Order a commission
Whether it's a reflection of your favorite landscape, a representation of a cherished story, or an embodiment of a specific emotion, each piece is carefully crafted to resonate with you. Experience the journey of your custom piece unfolding, from initial sketch to the completed weave.